You've booked the venue, selected a caterer, and are starting to think about which band to choose. Now you've also got to decide on alcohol options for your wedding reception. An open bar can offer a great experience for you and your guests, but you may have a few questions first. How much are open bars at weddings? What kind of drinks do we need to stock? Read ahead for a guide on everything you need to know to host an open bar on your special day. 
What is an open bar?
An open bar is paid for entirely by the couple, as opposed to a cash bar where guests pay for their own drinks. Open bar service often means wedding guests can enjoy an unlimited number of alcoholic beverages. 
How much are open bars at weddings?
If you're estimating price per person, the average cost tends to range between $15 to $45 per headcount. There's a lot that goes into that number, though. 
The cost of an open bar depends on your number of guests, the venue's pricing and rules, the bar menu, and the quality of alcohol you're serving.. Some wedding venues will charge based on total alcohol consumption after the wedding. Other venues offer a flat rate based on an estimated range of how much alcohol you think your guests will enjoy. Additional costs can include an hourly rate and prepaid gratuity for the bartender. 
There are plenty of ways to keep your bar menu unique with a price tag that works for you. You can have a full open bar, or you can customize a limited menu with beer and wine only or high end non alcoholic beverages. Whatever you choose, there are many options that contribute to a fun and lively wedding reception. 
What does a typical open bar include?
Your open bar certainly doesn't need an over the top selection of alcohol. A standard open bar usually includes a handful of beer and wine choices. Many open bars include essential liquors such as vodka, whiskey, gin, rum, scotch, bourbon, and tequila. Bartenders will also be stocked with typical mixers like juice and soda. You can always choose to elevate your bar menu options, but in general, the open bar at your wedding should cover the basics.
What should every couple know about offering an open bar?
There are a few things to know when nailing down the details of your open bar. Here's what to keep in mind during this phase of wedding planning. 
Be clear on closing time.

Ask your venue about any time limits for your open bar. Last call tends to be 30 minutes before the reception ends, but confirm this before committing. Venue rules may vary. 

Pause for speeches.

It's a good idea to temporarily close the bar when you need guests' attention. Suspend bar service during speech time, so everyone can toast you and your new spouse together.

Appeal to a wide audience

. Try to plan a menu that will cater to a range of tastes, and don't stress too much about making just one or two people happy. This is your day and it's not a huge deal if your bar doesn't have one family member's favorite brand of tequila.  

Don't skimp on staffing

. Make sure you have enough bartenders to cover everything. If you're inviting 100 guests or more, you may need additional staff for support so everything runs smoothly. Make sure your bartenders are

Califorina Responsible Beverage Server (RBS) certified

to keep your reception legally compliant and all your guests safe.
Pros and cons of offering an open bar
Just like with a cash bar, there are benefits and challenges to hosting an open bar. Here's what to know when weighing your options. 
Pros of an open bar at weddings
The best part of an open bar is a better overall guest experience. An open bar can add to a more relaxed atmosphere and keep the line moving. It's also a nice gesture to show your guests how much you appreciate them, especially if you have friends and family traveling long distances. They've spent time and money to celebrate you — let them focus on the festivities and enjoy a drink or two on you.
Cons of an open bar at weddings
The biggest drawback to an open bar is that you are responsible for the entire bill. Careful planning is required if you want to meet your budget. If your vendor is charging by total consumption, that cost may also include liquor bottles that aren't finished at the end of the night. And finally, open bars without drink limits can lead to unpredictable guest behavior.
Modified open bar options
You can tailor your open bar menu to fit your budget and wedding vision. Here are some limited bar choices that make an impression. 
1.) Offer unlimited beer and wine
Some couples choose to serve beer and wine only at their open bar. Even if you decide to go with craft beer and rarer wines, cutting liquor from the menu can reduce costs significantly. 
2.)
Limit the number of drinks per guest
You can avoid the hassle of cash transactions and still curb the number of free drinks per guest. Handout a certain number of drink tickets or stamp guests' hands to keep everything moving along. 
3.)
Serve an unlimited signature cocktail
You don't need to have limitless options for every item on your bar menu. Make your mark with a creative signature cocktail. You'll need to stock up on less liquor while enhancing the celebration. 
Choose a drink that has a unique meaning to you and your partner. Serve acocktail you enjoyed together on a first date, or a drink tied to a special memory. 
4.) Host a non alcoholic open bar
Some couples may decide to host an open dry bar, free of alcoholic beverages. You can still serve an elegant menu with signature juice or soda mocktails. Trademark's unique wedding venues feature an elevated refreshment bar with an assortment of gourmet lemonade, coffee, and tea thatl delights your guests without the ABV. 
5.) Make it self-serve
Some couples may opt for a self service bar where guests can try a pre-mixed cocktail or grab a glass of wine. With this option, though, there's no way to monitor how much your guests are drinking. You should also be mindful of the fine print in your contract, since self service bars may need some additional monitoring for legal compliance.
6.) Give your open bar a theme
If you want to stick to one type of liquor, make it festive and have a themed open bar. Whiskey or martini bars are particularly popular. It's a great way to keep your open bar simple without your guests feeling like they're missing out.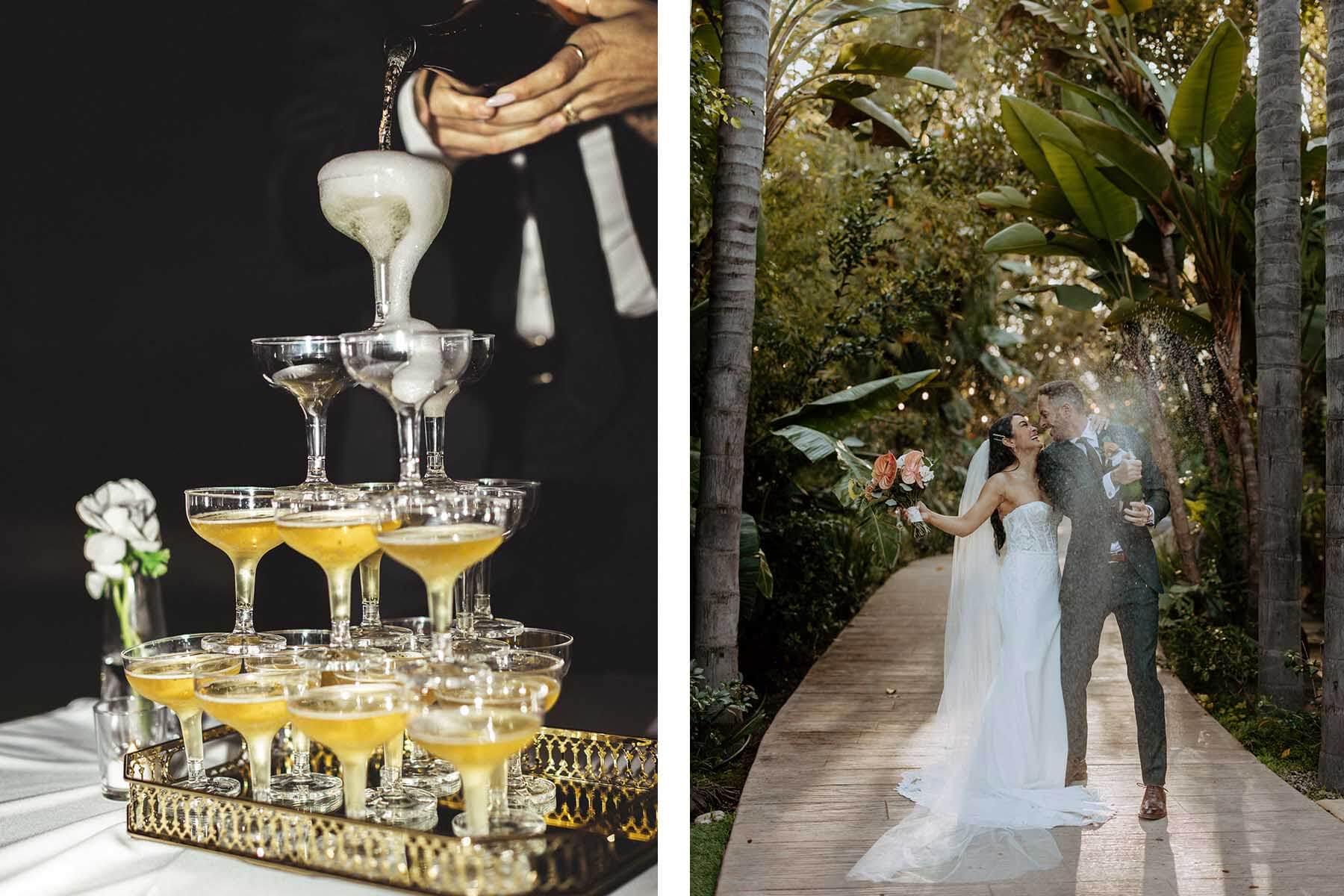 Open bar etiquette wedding guests should know
There are a few unspoken rules as a wedding guest when enjoying an open bar. Here we shed light on how to maintain decorum and still have a good time. 
Tip your bartender.

Even if you're enjoying free drinks, don't forget to tip the person serving you. If you see a tip jar, be generous. Dropping in a few dollars — or even a $10 bill —  will make your bartender happy (and can score your guests generous pours).

Show gratitude.

If the couple is covering your drinks, it's not polite to nitpick. If the line is too long, wait it out. If your favorite gin ran out, select something else.

Enjoy in moderation

. Don't overdo it just because drinks are technically unlimited. You don't want to steal the spotlight from the married couple because you had one too many. 
Enjoy the celebration with an open bar 
An open bar can add to the fun and festivities as you celebrate your new nuptials. The signature bars at each of Trademark's unique wedding venues give you the freedom to craft the perfect bar menu for your guests, including custom drinks to toast to your love. Contact Trademark today to explore your options. We're here to help you plan everything you need for the reception of your dreams.