Planning the perfect big day is all about creating the right atmosphere. Just like your venue and decor, your wedding day dress code sets the tone for your celebration. For weddings both casual and formal, it helps for guests to know exactly what to expect. If you communicate thoughtfully and early, you can easily set a wedding dress code that fits your vision and adds to a positive guest experience. Plus, guests want to know what they should wear to best fit in at the event. Read ahead for a guide to guest attire, from wedding dress code wording tips for your invitations to picking the one that fits you best. 
12 wedding dress codes to know about
Using widely known dress code terms in your guidelines can answer a lot of potential guest questions. Below you'll find the most common wedding dress codes for every kind of wedding, from the most elegant to the most laid back. 
1.) White tie 
The most formal of dress codes, white tie weddings are truly fit for a queen. If your fairy tale dream is to create your own royal ball, white tie attire calls for exquisite ball gowns and tailcoat tuxedos. Accessories for this upscale dress code can include gloves, fine jewelry, tiaras, and of course, white bow ties. 
2.) Black tie
For couples who opt for formal weddings, black tie attire is often the most common choice. For a refined venue, it's most appropriate for guests to wear a tuxedo or suit, or floor length gown. Outside of weddings, you may also see this category of dress code referred to as "business formal." It's similar to what you might wear to a professional awards dinner. Wedding guests can also think of black tie dress codes as similar to dressing for a night at the opera. 
Despite the name, black tie doesn't dictate a color palette — just the level of formality required. There's no reason you can't show off that gorgeous emerald gown at a black tie wedding. Although something to keep in mind is that dark suits are generally considered more formal. 
3.) Black tie optional
A black tie optional dress code still encourages formal attire, but gives guests a bit more wiggle room. It's more acceptable for guests to choose a suit and tie over a tuxedo, or a floor length dress that isn't a full evening gown. But guests who still want to get out their fanciest formalwear won't feel out of place. 
4.) Creative black tie
Couples with a unique style who are still dreaming of a formal celebration may be interested in this twist on a classic. Outfits with bold patterns and materials, such as velvet suits or sequined cocktail dresses, give your reception a formal feel with some flare. 
5.) Cocktail attire
Cocktail attire signals to guests that it's still an occasion to dress up, but with less formality needed. Knee-length cocktail dresses or tie-optional suits fit right in at a semi formal reception. This dress code option can work well if you want a formal but slightly relaxed mood. 
6.) Semi-formal
This dress code is so similar to cocktail attire that the two are sometimes used synonymously. But semi-formal is just a bit more casual, and most common for daytime weddings. A nice dress shirt and well-tailored jacket and pants would work perfectly with this wedding dress code. 
7.) Festive attire
If creative black tie is a unique take on black tie weddings, festive attire is a similarly imaginative spin on cocktail and semi formal weddings. Think cocktail attire silhouettes with elaborate patterns or bursts of color.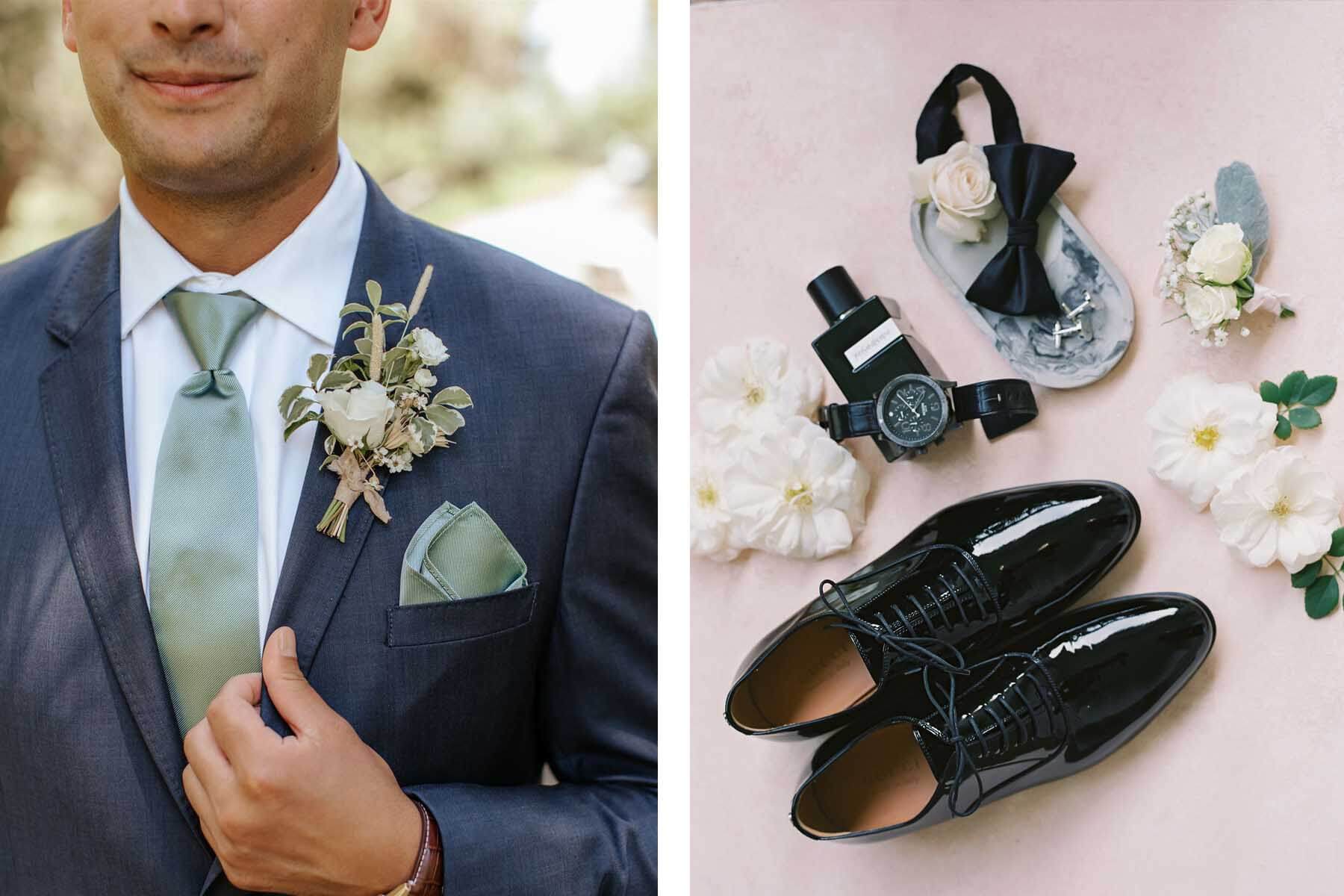 8.) Garden party
If you're having an upscale outdoor wedding, garden party dress codes take cocktail attire al fresco. Shoes can be a bit more practical for an outdoor environment, and high end spring dresses work for this occasion. Garden party attire could be great for a rustic reception. 
9.) Dressy casual
If you're familiar with business casual clothing, dressy casual is a similar concept, adopted for celebratory occasions. This can include informal but polished options, such as a button-down shirt or posh summer dress, like you would wear to a nice dinner. 
10.) Casual
If formal doesn't fit your personality, a casual dress code sets an easygoing tone. Guests are still encouraged to show off their style, but they can be a bit more comfortable while doing so. Swap the stiletto heels for nice wedges or flats, and a button-down shirt will be just fine sans tie. 
11.) Themed attire
If you really want to take your theme over the top, include your guests in the action. Tell guests if you want them to wear holiday themed attire, if you're tying the knot on Valentine's Day. If you've created a scene out of the 1920s, give guests the opportunity to don a flapper dress and style their hair in finger curls. Themed attire allows you to get creative on either end of the formal or casual spectrum. 
How to choose the right dress code for your wedding
There's no right or wrong for a wedding dress code, just what's right for you. Here are the factors to weigh before committing to a wedding dress code. 
Fit the mood.

Even if you're not doing a themed attire dress code, the theme still sets the tone. Keep this in mind before finalizing your dress code. 

Afternoon or evening.

Time of day should also play a role. Black tie dress codes feel out of place at 12 noon.

Venue guidelines

. Whether or not your venue has its own dress code to follow, advise guests to dress for the location. 

Dress for the season

. Weather and time of year should inform your dress code, especially with an outdoor wedding. For instance, beach casual might not be the best call for a December wedding, even if it's in Southern California.

Fashion and comfort.

You want your guests to have a good time on your big day. Outline a dress code that sets the right tone that your guests will feel comfortable in for the whole day or evening. 

Make it easy to understand

. You should be ready to answer any guest questions, if they want to know exactly how to get ready to celebrate your big day. But it can save both of you time if your wedding dress code wording is clear and simple. 

Your wedding, your style.

This is your day to plan however you see fit. Your wedding dress code should reflect your personality. If you and your soon-to-be spouse love the glitz and glamor of a formal dress code, dressy casual isn't for you.

Match with your wedding outfit

. If those saying "I do" are donned in a flowy beach dress or linen suit, should everyone else really be in cocktail attire? A wedding dress code should be cohesive for the couple and their guests. 
Dress code wording etiquette and placement
As is the case with nearly all wedding etiquette, clear communication is key. You can ensure a good guest experience by giving everyone plenty of notice for your wedding dress code plans. And your wedding invitation is a perfect place to note your clothing requirements. To keep your invitation clean, you can list your category of dress code in one simple sentence. This is usually listed toward the bottom of the invitation, following the essentials of date, location, and time. Use wording that is instructive and polite, that fits the tone of the rest of your invitation's language. 
And if you have a wedding website, you can include details with examples to help answer guest questions. If you've chosen a less known or slightly ambiguous dress code like festive attire, an explanation can clear up a lot of confusion. Just like with your invitation, it helps to put your dress code information in an easy to find location, near other important information. 
Wording examples for each dress code
You're welcome to simply list the type of dress code on your invitation. But if you have room, feel free to add some additional detail or get a little creative, as long as guests can easily understand. Here are some samples of how to disclose your wedding dress code on your invitation. 
White Tie

White Tie Celebration: Please join us in your most royal formalwear.

Black Tie

A Formal Affair: Our venue requires Black Tie attire.  

Black Tie Optional

Black Tie Optional: Formal attire is suggested.

Creative Black Tie

Creative Black Tie: Formalwear is suggested, with some flare.

Cocktail

Cocktail Attire: Elegance encouraged.

Semi Formal

We can't wait to celebrate with you in your daytime Semi Formal attire. 

Festive Attire

Festive Attire: Guests are encouraged to wear bold, colorful semi formal attire. 

Garden Party

Garden Party Attire: Dress in your best outdoor-friendly semi formalwear. 

Dressy Casual

Comfort Encouraged: Our celebration will be Dressy Casual.

Casual

Casual attire is welcome at our wedding.

Beach Casual

Seaside Attire: Arrive in your best Beach Casual wear. 

Themed Attire

Halloween Themed Attire: Costumes preferred. 
Dress in your best for all nuptial occasions
Whether you want each guest dressed in their finest, or prefer a casual atmosphere, planning and communicating your dress code is essential. Let guests know exactly how they should arrive on the invitation, and be ready to answer any questions for less conventional dress codes. Then when the big day arrives, your guests will be dressed for exactly the wedding you've always envisioned.